After 15 months closure we  re-opened on the 3rd July in the Wye College, Latin School and Garden.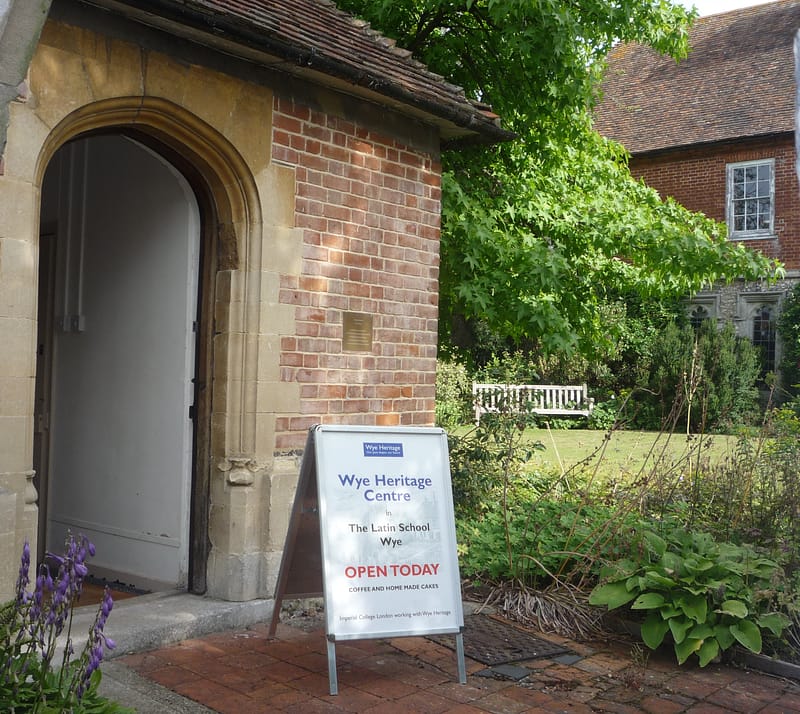 We are normally open between 10 am and midday on the 1st and 3rd Saturday in every month, to coincide with the twice monthly Wye Farmers' Market. We are looking to extend our opening hours in the near future.
Entry is free to all, and coffee and home made cakes are offered for a small donation.
If you would like to visit us at another time, or would like to arrange a group visit, we are very happy to help you with this. One of our knowledgeable volunteers will be on hand to assist you during your visit.
On Fridays we usually open between 2.00pm and 5.00pm for members to work with us on the archives or to carry out their own research. Come and join us, there is always a cup of coffee or tea available and a great collaborative atmosphere.
We are also available to provide information from our archives and answer research questions via email if you are unable to visit us  in person. Please do get in touch.
We are in the centre of Wye village, right next to the Church, in the small Medieval Latin School.  There is a free car park in the centre of the village – follow the signs.
It is simple to reach Wye by train. We are within easy reach of London, using the high speed train from St Pancras. Wye train station is just an eight minute walk from the Heritage Centre and the centre of the village.
Wye Heritage Centre
The Latin School
High Street
Wye
Kent 
TN25 5AH